United States Air Force F-22 Raptor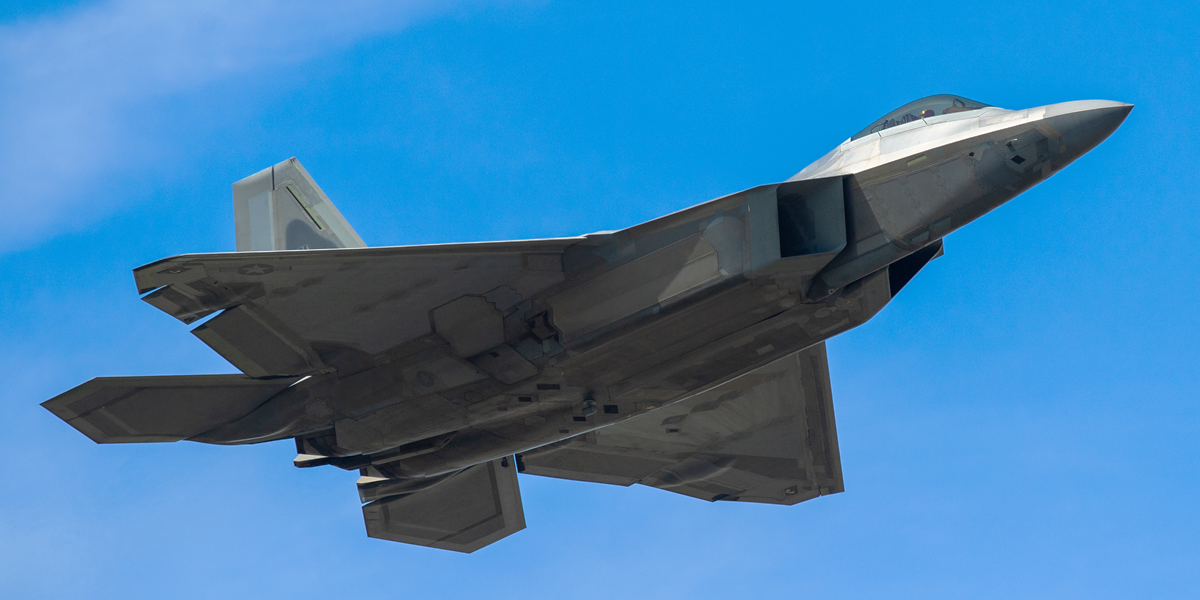 The F-22 Raptor is combination of stealth, supercruise, maneuverability, and integrated avionics, coupled with improved supportability, represents an exponential leap in warfighting capabilities. The Raptor performs both air-to-air and air-to-ground missions allowing full realization of operational concepts vital to the 21st century Air Force.
The F-22, a critical component of the Global Strike Task Force, is designed to project air dominance, rapidly and at great distances and defeat threats attempting to deny access to our nation's Air Force, Army, Navy and Marine Corps. The F-22 cannot be matched by any known or projected fighter aircraft.
F-22 RAPTOR GENERAL CHARACTERISTICS
Primary function: air dominance, multi-role fighter
Contractor: Lockheed-Martin, Boeing
Power plant: two Pratt & Whitney F119-PW-100 turbofan engines with afterburners and two-dimensional thrust vectoring nozzles.
Thrust: 35,000-pound class (each engine)
Wingspan: 44 feet, 6 inches (13.6 meters)
Length: 62 feet, 1 inch (18.9 meters)
Height: 16 feet, 8 inches (5.1 meters)
Weight: 43,340 pounds (19,700 kilograms)
Maximum takeoff weight: 83,500 pounds (38,000 kilograms)
Fuel capacity: internal: 18,000 pounds (8,200 kilograms); with 2 external wing fuel tanks: 26,000 pounds (11,900 kilograms)
Payload: same as armament air-to-air or air-to-ground loadouts; with or without two external wing fuel tanks.
Speed:  mach two class with supercruise capability
Range: more than 1,850 miles ferry range with two external wing fuel tanks (1,600 nautical miles)
Ceiling: above 50,000 feet (15 kilometers)
Armament: one M61A2 20-millimeter cannon with 480 rounds, internal side weapon bays carriage of two AIM-9 infrared (heat seeking) air-to-air missiles and internal main weapon bays carriage of six AIM-120 radar-guided air-to-air missiles (air-to-air loadout) or two 1,000-pound GBU-32 JDAMs and two AIM-120 radar-guided air-to-air missiles (air-to-ground loadout)
Crew: one
Unit cost: $143 million
Initial operating capability:  December 2005
Inventory: total force, 183

Follow Our Social Channels