United States Navy Blue Angels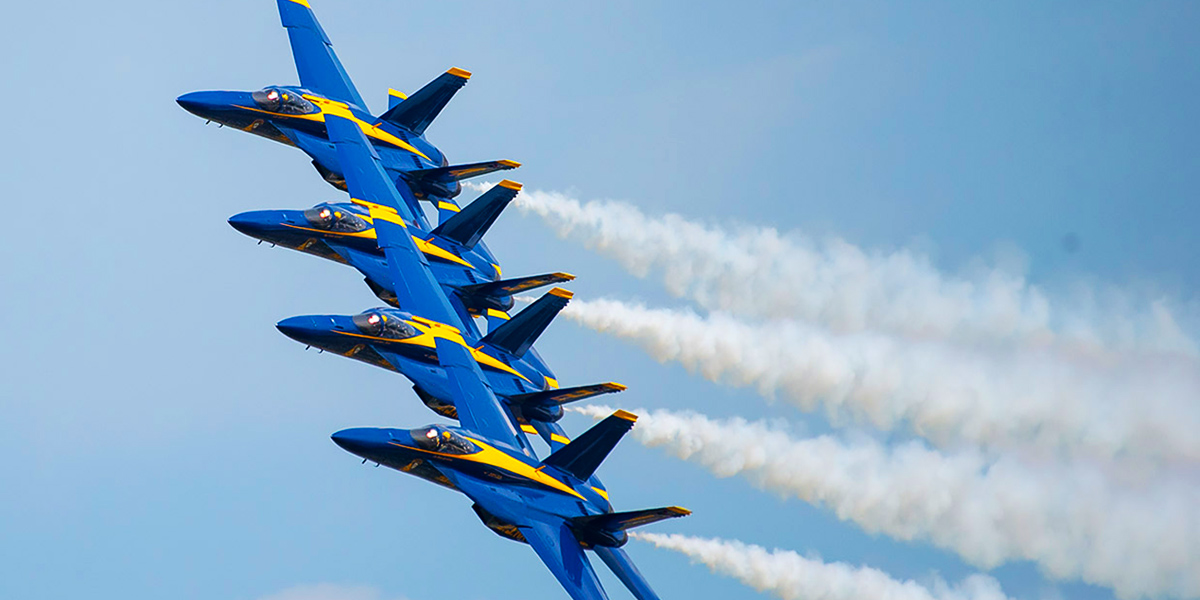 Around the country, the U.S. Navy Blue Angels serves as ambassadors of goodwill by bringing naval aviation to men, women, and children across America.
The precision flight demonstrations showcase the professionalism, excellence and teamwork found in all Navy and Marine Corps units, as well as provide the thrill and magic of flight to people each year.
Since its inception, the team has flown for more than 450 million spectators worldwide.
A total of 17 officers voluntarily serve with the Blue Angels. Each year the team typically selects three tactical (fighter or fighter/attack) jet pilots, two support officers and one Marine Corps C-130 pilot to relieve departing members.
SUPER HORNET GENERAL CHARACTERISTICS
Primary Function: Multi-role attack and fighter aircraft.
Contractor: McDonnell Douglas (now The Boeing Company)
Date Deployed: First flight in November 1995. Initial Operational Capability (IOC) in September 2001 with VFA-115, NAS Lemoore, California. First cruise for VFA-115 is onboard the USS Abraham Lincoln.
Unit Cost: $67.4 million (FY21)
Propulsion: Two F414-GE-400 turbofan engines. 22,000 pounds (9,977 kg) static thrust per engine
Length: 60.3 feet (18.5 meters)
Height: 16 feet (4.87 meters)
Wingspan: 44.9 feet (13.68 meters)
Weight: Maximum Take Off Gross Weight is 66,000 pounds (29,932 kg)
Airspeed: Mach 1.8+
Ceiling: 50,000+ feet
Range: Combat: 1,275 nautical miles (2,346 kilometers), clean plus two AIM-9s
Ferry: 1,660 nautical miles (3,054 kilometers), two AIM-9s, three 480 gallon tanks retained
Follow Our Social Channels